Springfield XD-E, Semi-Automatic, .45 ACP, 3.3" Barrel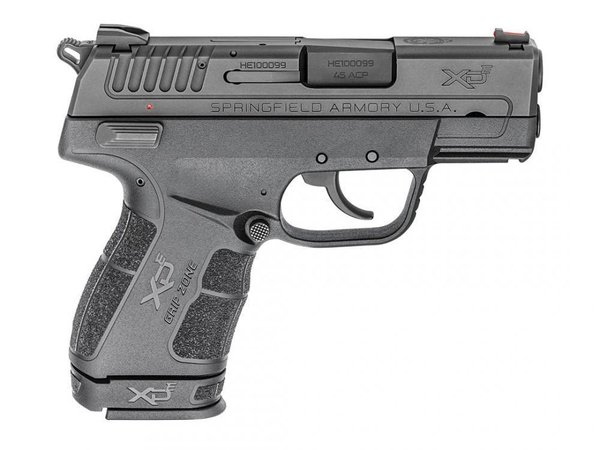 Springfield XD-E, Semi-Automatic, .45 ACP, 3.3" Barrel
For the shooters who opt for .45 ACP, the New Springfield XD-E pistol offers a slender, 1-inch wide frame combined with a 3.3-inch hammer forged steel barrel, making this single stack handgun ideal for concealability. Achieve easier operation and fewer slipped slide pulls with the Low Effort Slide (L.E.S.) technology that requires 27% less effort to manipulate. This enhancement, paired with active grip texturing that engages every part of the shooter's hand, delivers secure control of the weapon and a uniquely comfortable fit. Safety features like the visible external hammer, double action trigger and thumb safety/decocker, provide peace of mind and confidence to carry concealed. Acquire your target with ease and speed by utilizing the high quality fiber optic front sight and low profile white-dot rear sight, even in low-light conditions. Firearm is shipped with a 6-round magazine (with pinky extender installed)or a 7-round mid magazine (with grip extension), and flush base plate for maximum concealability.
- Model: XD-E
- Series: Single Stack
- Caliber: .45 Auto/ACP
- Magazine Capacity: 6 rounds (w/ Grip X-Tension Mag), 7 rounds (w/ Mag X-Tension)
- Magazine Material: Stainless steel
- Weight: 23.00 ounces
- Recoil System: Dual spring with full length guide rod
- Barrel Length: 3.3"
- Barrel Material: Steel, hammer forged
- Barrel Finish: Melonite
- Twist Rate: 1:10
- Slide Material: Forged steel
- Slide Finish: Black Melonite
- Frame Material: Polymer
- Frame Finish: Black
- Safety: Thumb safety with integrated decock
- Grip Width: 1.00"
- Sights: Fiber Obtic Front & Low Profile Combat Rear
- Includes: One, 6-round (Grip X-Tension Mag) / One, 7-round (w/ Mag X-Tension)