Springfield Armory XDM 10mm 4.5" Barrel 15+1 Rounds Semi Auto Pistol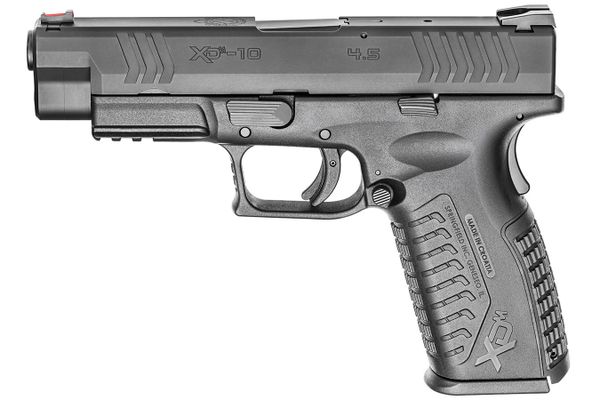 Springfield Armory XDM 10mm 4.5" Barrel 15+1 Rounds Semi Auto Pistol
Springfield Armory is pleased to announce a highly anticipated new addition to their polymer pistol lineup, the XDM in 10mm. This full-size pistol is the latest variation in the series, now chambered in the popular 10mm round for more power in the highly accurate and reliable XDM platform.
10,000 rounds of Federal Hydra-Shok 10mm ammo was fired through the new XDM without a hiccup, with every round documented on video for complete transparency. the XDM has been meticulously engineered to ensure the pistol is as robust and reliable a defensive force as possible.
Holding 15+1 rounds, the XD(M) 10mm tames this potent cartridge for a comfortable shooting experience with each pull of the trigger. The 4.5" model features a low-profile combat rear sight paired with a fiber optic front sight.
The Melonite finished hammer-forged barrel and forged slide allow for a steady diet of full-power 10mm ammo, and the full-length guide rod lessens felt recoil.
Manufacturer: Springfield Armory
Model: XDM
Caliber: 10mm
Barrel: 4.5" Steel Melonite Finish; Hammer Forged 1:16 RH Twist
Length: 7.7"
Height: 5.75"
Width: 1.2"
Weight: 31.2 oz
Magazines: (2) 15-Round Magazines
Sights: Fiber Optic Front Low Profile Combat Rear Steel
Frame: Black Polymer with Changeable Backstraps
Slide: Forged Steel Melonite Finish
Recoil System: One Piece Full Length Guide Rod