Springfield Armory XD-S Mod.2 9mm Sub Compact Pistol With Fiber Optic Front Sight XDSG9339B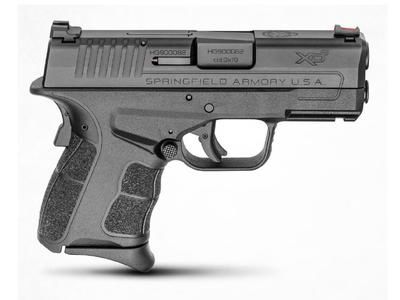 Springfield Armory XD-S Mod.2 9mm Sub Compact Pistol With Fiber Optic Front Sight XDSG9339B
The next generation of the most popular pistol ever produced by Springfield Armory is now available in the most popular caliber with the introduction of the XD-S Mod.2 in 9mm.
Springfield Armory has engineered a pistol specifically designed around the 9mm round, resulting in a smaller frame and slimmer profile in this latest version of the XD-S Mod.2. With a frame less than 1-inch wide, the XD-S Mod.2 9mm disappears under even the lightest clothing.
Built upon a time-tested platform, the XD-S Mod.2 in 9mm was designed to achieve maximum concealability while maintaining life-saving reliability when you need it most. The XD-S Mod.2 in 9mm survived a grueling 25,000 round torture test without a failure. This is an amazing testament to the quality of the pistol especially when considering its small size.
The XD-S Mod.2 frame positions a shooter's grip higher on the gun, closer to the bore axis, for  better recoil control and accuracy. Coupled with the dual captive recoil spring and full length guide rod, the XD-S Mod.2 in 9mm is soft shooting and well-balanced. An enhanced short reset trigger makes for fast, controllable follow up shots.
The XD-S Mod.2 ships with two stainless steel magazines: a 7-round mag with a pinkie rest and additional flush floor plate for carry and one 9-round extended magazine – perfect for home defense. 
For those looking for a trusted every day carry handgun, the Springfield Armory XD-S platform is    consistently amongst the most popular and widely-chosen carry guns on the market. The XD-S Mod.2 in 9mm will provide superior reliability, safety, and concealability when you need it most.
Caliber: 9mm

Barrel: 3.3" Hammer Forged Steel, Melonite
Slide: Forged Steel, Melonite
Frame: Black Polymer w/ Enhanced Grip Texture Sights: Fiber Optic Front, Tactical Rack Rear Magazines: (1) 7-Round w/ Pinkie Extension, (1) 9-Round Extended & (1) Flush Plate Weight: 21.5 oz - 22.5 oz w/ X-Tension MSRP: $524.00