SPRINGFIELD 1911 RO ELITE TARGET 45 ACP 5" (PI9128E)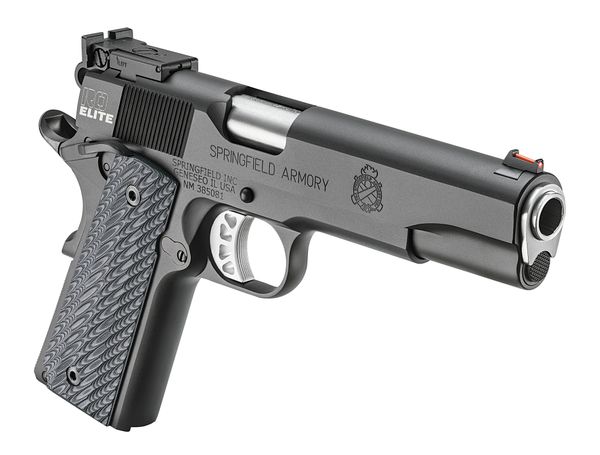 SPRINGFIELD 1911 RO ELITE TARGET 45 ACP 5" (PI9128E)
SPRINGFIELD 1911 RANGE OFFICER ELITE TARGET 45 ACP 5" 
Includes , Cleaning Tools, Lock, Manual and 2 Mags all in factory soft carry case/range bag.
Springfield Armory has just introduced a new 1911 designed for people interested in shooting competitively. It is called— The RO, "Range Officer". The RO is designed to give the shooter exceptional quality, at an affordable price. One of the goals was to create a pistol that is acceptable in many different styles of shooting competitions, so the shooter can decide which one he likes most. It is built with the same quality as the TRP and Trophy Match models. It's everything you need in a competition model, at an affordable price, and easily upgradable for your future needs.
Every detail of the full-sized RO Elite Target is engineered for accuracy. Forged steel match grade frame and slide are precision fit for fluid smooth function, armored with a self-lubricating Black-T finish that shrugs off corrosion and extremes. The 5-inch stainless steel, match grade barrel, fully adjustable rear target sight, fiber optic front sight, and smooth Gen 2 trigger ensure target-drilling performance. GI recoil system, custom thin-line G-10 grips and ambidextrous safety complete a form with the fit, feel and balance to dominate the range.
MPN:  PI9128E
Caliber: .45ACP
Weight w/Empty Magazine: 40 ozs.
Recoil System: Standard Guide Rod
Height: 5.5"
Length: 8.5"
Slide: Forged Steel, Blatk T Finish
Frame: Forged Steel, Black T Finish with Ambi Thumb Safety
Trigger: Gen 2
Magazines: 2 - 7 Round
Grips: G10
Barrel: 5" Stainless Steel
Sights: Low Profile Adjustable Target