Springfield 1911 Mil-Spec Defender Series, Semi-automatic, .45 ACP, 5" Barrel, 7+1 Rounds (PBD9108L)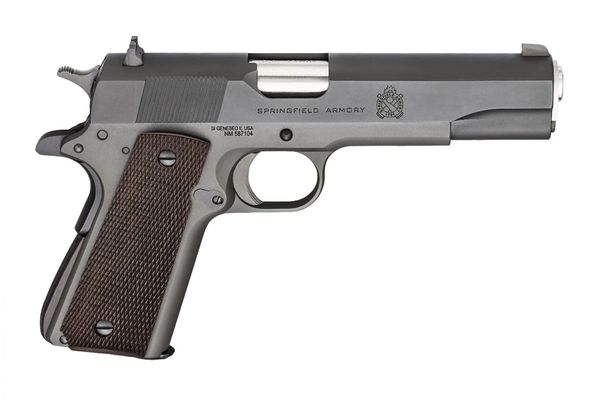 Springfield 1911 Mil-Spec Defender Series, Semi-automatic, .45 ACP, 5" Barrel, 7+1 Rounds (PBD9108L)
Springfield 1911 Mil-Spec Defender Series .45 ACP Semi-automatic Handgun
More than a century and untold billions of rounds of .45 ACP after its introduction, American shooters, law enforcement and elite military personnel the world over still rely on the immortal 1911 to get the job done. Whether you're a first-time 1911 owner or a discerning collector, Springfield is the right choice.
Their mil.-spec variant builds on the classic G.I. version with a 5" match-grade stainless barrel, forged carbon steel frame and slide, and a lowered and flared ejection port for more reliable cycling. The slide has slanted serrations, and the mainspring housing is the original arched style found on GI-issue 1911-A1s.
Individuals who purchase this special Defenders Series model will receive a Defender Series Certificate and an invitation to join The Defenders, an online community of enthusiasts who will receive exclusive offers, giveaways and discounts from Springfield.
5" stainless steel match-grade barrel delivers top accuracy
Forged carbon steel frame and slide with Parkerized finish
Single-sided, non-extended thumb safety and short military combat trigger stay true to the original 1911A1
Combat 3-dot sights
Lowered, flared ejection port for more reliable cycling
GI-style recoil system
Fully checkered wood grips
Includes (1) 7-rd. magazine
Caliber: .45 ACP
Action: Semi-automatic
Capacity: 7+1
Barrel length: 5"
Frame: Forged carbon steel, Parkerized
Grips: Wood
Sights: Combat 3-dot sights
Overall Length: 8.6"
Weight: 39 oz.
Mfg. Number: PBD9108L