Ruger SP101 357 Magnum Revolver, 2.25″ Barrel, 5 Rounds, Blued Steel Frame, Cushioned Rubber and Engraved Wood Grip (15702)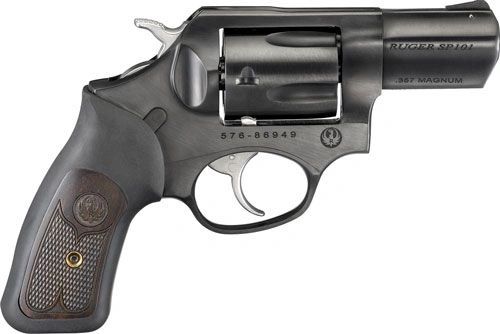 Ruger SP101 357 Magnum Revolver, 2.25″ Barrel, 5 Rounds, Blued Steel Frame, Cushioned Rubber and Engraved Wood Grip (15702)
The Ruger SP101 revolver boasts the strength to handle the powerful 357 Magnum in a controllable, small-framed double-action revolver. Among the most powerful small-frame revolvers on the market, they are engineered for solid performance. Featuring a recoil-reducing grip, the SP101 is comfortable to shoot and perfect for personal defense or field use.
Product Features:
Cushioned rubber grip with hardwood insert has no exposed metal in the backstrap, making it extremely comfortable.
Takedown of integrated subassemblies requires no special tools and allows for easy maintenance and assembly.
Patented transfer bar mechanism provides an unparalleled measure of security against accidental discharge.
Patented grip frame easily accommodates a variety of custom grips.
Triple-locking cylinder is locked into the frame at the front, rear and bottom for more positive alignment and dependable operation shot after shot.