Mossberg 500 Special Purpose Chainsaw 12 Gauge 18.5" Barrel 5+1 Synthetic Pistol Grip 50460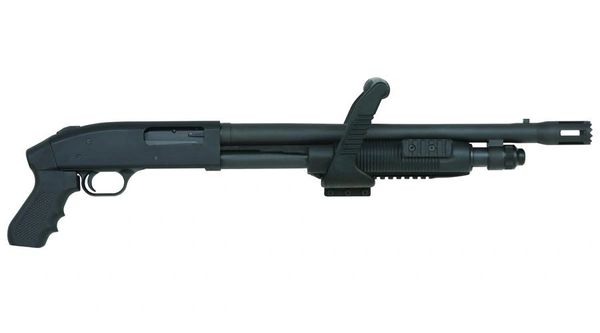 Mossberg 500 Special Purpose Chainsaw 12 Gauge 18.5" Barrel 5+1 Synthetic Pistol Grip 50460
Built in the iconic Mossberg 500 action, the Chainsaw is a pistol-grip pump-action
shotgun with no stock. While guns like this are desirable for home defense, they're
notoriously hard to control while firing, a problem that Mossberg has solved by
attaching a wrap-around chainsaw-style hand grip to the pump. Intended to be
fired from the hip, this top handle allows the user to cycle the action while
simultaneously maintaining leverage above the gun to help tame muzzle flip.
In addition to the chainsaw-style grip, the 500 Chainsaw has a stand-off barrel
that can be used to breech doors and three rails that can mount accessories.
Manufacturer: Mossberg
Model: 500 Tactical - Chainsaw
Sku: 50460
Gauge: 12
Capacity: 6
Chamber: 3 in.
Barrel Type: Stand-off/Breacher
Barrel Length: 18.5 in.
Sight: White Dot
Choke: Cylinder Bore
LOP Type: Fixed
Barrel Finish: Matte Blued
Stock Finish: Synthetic (Black Pistol Grip)
Weight: 6 lbs.
Length: 31 in.