Molot Vepr 12 Semi Auto 12 Gauge Shotgun, Factory 5rd magazine, fixed metal buttstock VEPR 12-01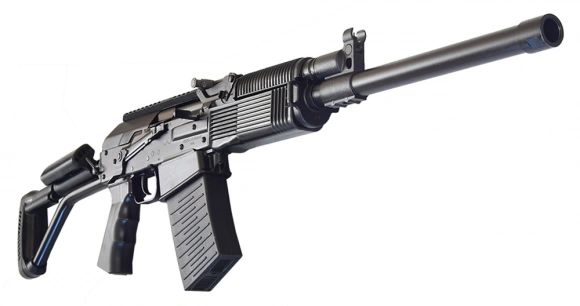 Molot Vepr 12 Semi Auto 12 Gauge Shotgun, Factory 5rd magazine, fixed metal buttstock VEPR 12-01
Molot Vepr 12 is considered the finest personal protection shotgun in the world. There are countless militaries, law enforcement agencies, and practical shooting competitors around the world that wouldn't use anything else.
The Vepr 12-01 includes a Molot factory fixed tubular stock and has an adjustable padded cheek piece that accommodates both left and right handed shooters. The Vepr features a bolt hold open button to manually lock the bolt back. The bolt also locks back on an empty magazine. To release the bolt, either pull it back slightly or use the bolt release button. Magazines go in and out of the Vepr enlarged magazine well very easily, and do not require "rocking" them in as on the Saiga. Empty magazines drop free of the gun when released. The Vepr 12 ships with a 5 round magazine.
Quality, durability, and attention to detail are the hallmarks of the Molot Vepr 12. Another example of this is the spring loaded pin on top of the dust cover latch which must be depressed in order to push the button in and lift up the top cover. This prevents the hinged dust cover from ever coming open if the gun is dropped, or during recoil. The all important bolt of the shotgun is precisely machined steel- not a cast component as on other AK platform guns.
The Vepr comes with a Picatinny rail attached on the top of the dust cover for those wanting to use magnified or red-dot optics. If not, the Vepr 12 has the most easily adjustable rear sight of any shotgun. It offers tool-less repeatable adjustments for both elevation AND windage.
A 19" chrome lined externally threaded barrel (same thread as Saiga) with muzzle cap completes the gun, and allows easy attachment of flash hiders, muzzles brakes, chokes, and sound suppressors.
If you want the finest defensive personal protection shotgun in the world for your own, this shotgun is for you.
Features:
Hinged dust cover with a picatinny rail 
Original Molot Polymer Pistol Grip 
Original Molot Polymer Lower Handguard 
Original Molot  Polymer Upper Handguard 
Molot Self-Regulating Gas System 
Original Molot Competition Magazine Well 
One Original Molot Factory 5 round Magazine 
Molot Factory AK adjustable rear sight 
Factory chrome lined barrel, chamber, receiver shaft and gas chamber 
Factory last round bolt hold open 
Factory threaded barrel (thread pattern is the same as Saiga) 
Factory machined bolt assembly, gas blocks etc. (not cast like other AK shotguns) 
Cheek Rest unlocks and rotates on stock from right to left hand side for ambidextrous shooting.