I.O. Inter Ordnance M215-ML15 223 Rem | 5.56 NATO Semi-Auto Rifle, 16″ Barrel, Matte Black Finish IODM2023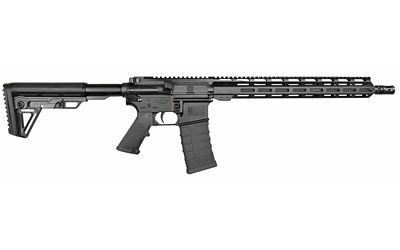 I.O. Inter Ordnance M215-ML15 223 Rem | 5.56 NATO Semi-Auto Rifle, 16″ Barrel, Matte Black Finish IODM2023
We are proud to present the M215 ML15 (15″ M-LOK) of our M215 small arms family, all chambered for the popular and easy to acquire 5.56×45 NATO / .223 Remington cartridges!
The ML-15 rifle has a 15″ M-LOK handguard that is slim line and free floated.  It helps to reduce overall weight and aids comfort in handling the rifle.
Similar to the M215 Low Profile rifle, the M215-ML15 rifle is equipped with a standard flat top receiver with MIL-STD-1913 rail to accept all your optics choices.
These rifles are equipped with an M4 Profile barrel that has a 1:8 twist rate.  This intermediate twist rate does an excellent job of stabilizing the different weight projectiles on the market for excellent accuracy results out of our rifles.
All of our M215's are built on Mil-spec 7075T6 upper and lower receivers.  They are hardcoat anodized Black per Mil-A-8625F Type III Class 2.  The bolt carriers are Nitrided and feature bolts that have been Magnetic Particle Inspected (MPI). We install Mil-Spec US Made Lower Parts kits to include the fire control group.
Specifications
5.56x45mm NATO / .223 Remington
Mil-Spec Receiver
1:8 Barrel Twist
Overall Length: 32.5" – 36"
Barrel Length: 16"
Weight: 6.3lbs
Collapsible Buttstock
M-LOK Hand Guard
MIL-STD-1913 Top Rail
Hard Coat Type III Anodized