Heckler & Koch HK416 D .22LR Semi-Automatic Rifle, 16.1" Barrel, 20 Round Mag, Aluminum M-LOK Rail, Flip Up Sights (81000401)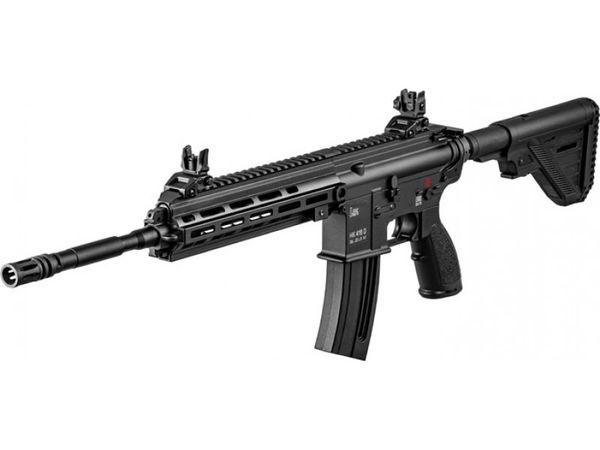 Heckler & Koch HK416 D .22LR Semi-Automatic Rifle, 16.1" Barrel, 20 Round Mag, Aluminum M-LOK Rail, Flip Up Sights (81000401)
Walther Arms/Umarex is excited to offer the licensed version of the HK416 Semi automatic Rimfire rifle. This dedicated rimfire rifle is officially licensed by HK USA to provide you with a rifle that closely mimic's the aesthetics and controls of an HK 416 but in a rimfire package. This rifles features a 16" barrel which has been threaded 1/2x28. The aluminum upper and lower receivers provide you with a realistic feel and weight while the aluminum M-LOK hand guard provides you with all the modularity to attach your favorite M-LOK compatible accessories. Don't pass up your chance to own this rimfire replica of an iconic HK rifle.
Specifications and Features:
HK USA made by Walther Arms/Umarex 81000401
HK 416 Semi Automatic Blowback Operation
.22 Long Rifle
16.1" Barrel
20 Round Magazine
Aluminum Upper/Lower Receiver
Aluminum M-LOK Rail
Charging Handle
Polymer Flip Up Front/Rear Sights
HK Style Collapsible Buttstock
Overall Length 32.7"
Matte Black Finish