Beretta 92FS Compact, 9mm, 4.25" Barrel, 13+1 Rounds, Made In Italy (JS92F850M)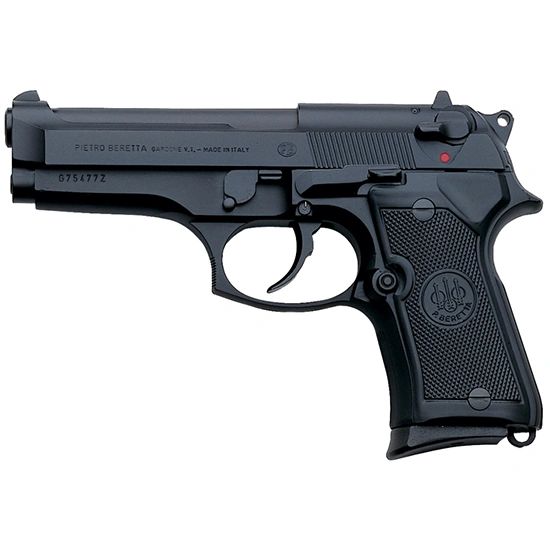 Beretta 92FS Compact, 9mm, 4.25" Barrel, 13+1 Rounds, Made In Italy (JS92F850M)
Beretta's 92 Compact takes some of the best features of the 92FS and scales them down for a more compact concealable carry. It is a durable, reliable semiauto that is easy to use, absolutely safe and delivers impressive firepower. The 92 Compact is a double/single-action semiauto pistol that employs an open-slide, short-recoil delayed locking-block system, which yields a faster cycle time and delivers exceptional accuracy and reliability. This pistol offers a variety of tactical features that make it equally safe, easy to use and dependable in the holster of military personnel as well as for home or personal defense. Its reversible magazine release lets you use either hand for tactical magazine changes, while its ambidextrous safety-decocker makes it flexible for right- or left-handed persons or for shooters trying out different gripping or shooting styles. Its Bruniton finish is highly resistant to sweat and corrosion, and after shooting, a tool-free disassembly latch makes it a snap to take the pistol apart for cleaning.
Model : 92FS Compact
Model # : JS92F850M
Manufacturer : Beretta
Caliber : 9mm
Type : Semi-Auto Pistol
Action : Double / Single Action
Barrel : 4.25"
Capacity : 13+1
Finish : Blue
Length : 7.75"
Safety : Slide Mounted Ambidextrous Manual Safety With Decocker
Sights : Fixed
Grips : Black Plastic
Magazine : 2 / 13 rd.
Weight : 31.6 oz.