EAA SAR ST10 9mm 4.5" Black, Steel Frame, Semi Auto,16 Round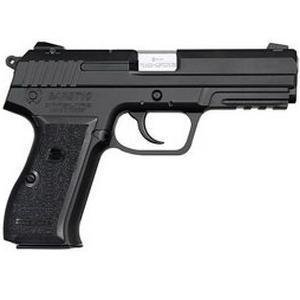 EAA SAR ST10 9mm 4.5" Black, Steel Frame, Semi Auto,16 Round
The ST10 was manufactured by EAA in USA. EAA manufactured the ST10 with Adjustable sights and Black grips. This Single/Double action handgun shoots 9mm Luger ammunition; it has a 4.5" inch barrel and a Black frame finish.
Double/Single action semi-automatic with auto firing pin block and manual safety. Alloy receiver. Fixed front sight; adjustable rear sight. Barrel length is 4.5 inches. Picatinny rail. Rear slide serrations. Weight 31.7 ounces.
It comes with 2 16 round magazines, trigger guard holster, and a double magazine pouch holster.
Manufacturer : EAA
Model :
ST10
Action :
Single/Double
Caliber :
9mm Luger
Barrel Length :
4.4"
Sights :

Adjustable

Frame Finish :

Black
Magazine Capacity :

16

Grip :

Black